There had been a party to celebrate Vicious' release on $50,000 (£29,412) bail pending his trial for the murder of his former girlfriend, Nancy Spungen, the previous October. Party guests, said that Vicious had taken heroin at midnight. An autopsy confirmed that Vicious died from an accumulation of fluid in the lungs that was consistent with heroin overdose. A syringe, spoon and heroin residue were discovered near the body.
Vicious was born to John and Anne Ritchie (née McDonald). His mother dropped out of school early due to a lack of academic success and went on to join the RAF, where she met her husband-to-be, Ritchie's father. He was a guardsman at Buckingham Palace and a semi-professional trombone player on the London Jazz scene. Shortly after Ritchie's birth, he and his mother moved to Ibiza, where they expected to be joined by his father who, it was planned, would support them financially in the meantime. However, after the first few checks failed to arrive, Anne realized he would not be coming. Anne later married Christopher Beverley in 1965, before setting up a family home back in Kent. Ritchie took his stepfather's surname and was known as John Beverley.
Ritchie's stepfather died six months later from cancer, and by 1968 he and his mother were living in a rented flat in Tunbridge Wells, where he attended Sandown Court School. In 1971, the pair moved to Hackney in east London. He also spent some time living in Somerset.
Ritchie first met John Lydon in 1973, when they were both students at Hackney Technical College. Lydon describes Ritchie at this time as a David Bowie fan and a "clothes hound". By age 17, Ritchie had begun to hang around London. One favorite spot was Malcolm McLaren and Vivienne Westwood's then-little-known clothing store, SEX. There he met American expatriate Chrissie Hynde before she formed the Pretenders. Though at least five years older, she tried (but failed) to convince Ritchie to join her in a sham marriage so she could get a work permit.

John Lydon nicknamed Ritchie "Sid Vicious", after Lydon's pet hamster, Sid. The hamster had bitten Ritchie, who said: "Sid is really vicious!" The animal was described by Lydon as "the softest, furriest, weediest thing on earth." At the time, Ritchie was squatting with Lydon, John Joseph Wardle (Jah Wobble), and John Gray, and the four were colloquially known as "The Four Johns".
According to Lydon, he and Vicious would often busk for money, with Vicious playing the tambourine. They would play Alice Cooper covers, and people gave them money to be quiet. Once a man gave them "three bob" (three shillings. or 15 pence) and they all danced. According to the band's photographer, Dennis Morris, Ritchie was "deep down, a shy person". However, he did assault NME journalist Nick Kent with a motorbike chain, with help from Jah Wobble. On another occasion, at the Speakeasy (a London nightclub popular with rock stars of the day) he threatened BBC DJ and O"ld Grey Whistle Test" presenter Bob Harris.
Vicious began his musical career in 1976 as a member of The Flowers of Romance along with former co-founding member of The Clash, Keith Levene (who later co-founded John Lydon's post-Pistols project Public Image Limited) and Palmolive and Viv Albertine, who would later form The Slits. He appeared with Siouxsie and the Banshees, playing drums at their notorious first gig at the 100 Club Punk Festival in London's Oxford Street. According to members of The Damned, Vicious was considered, along with Dave Vanian, for the position of lead singer for the Damned, but Vicious failed to show up for the audition.

Vicious later contended that Vanian and associates had intentionally withheld information regarding the audition as an act of jealousy to ensure Vicious did not arrive. Soured by the experience Vicious held a personal grudge for this perceived slight perpetrated against him by Vanian and The Damned, a grudge which would result in violence. During The Damned's performance at day 2 of the 100 Club Punk Special, the day after making his debut drumming with Siouxsie and the Banshees, an intoxicated and amphetamine fueled Vicious hurled his glass at the stage. He was attempting to strike Dave Vanian as an act of retribution, but the glass missed, shattering and partially blinding a girl in one eye. Vicious was arrested the next day and imprisoned at Ashford Remand Centre. Westwood, likely working with McLaren to encourage Sid's worst instincts sent him a tome to read, written about Charles Manson, to keep him occupied during his imprisonment.
According to various publications (such as the biography "England's Dreaming" by Jon Savage) and films (namely "The Filth and the Fury"), Vicious was asked to join the group after Glen Matlock's departure in February 1977, due to Vicious being present at every gig. Manager Malcolm McLaren once claimed "if Johnny Rotten is the voice of punk, then Vicious is the attitude."
McLaren also said in person and in a documentary that if he'd met Vicious before he had hired Rotten to be the singer, Vicious would have been the Sex Pistols' front man, because he had the most charisma of anyone on that stage. Alan Jones described Vicious as "[having] the iconic punk look … Sid, on image alone, is what all punk rests on." His nails would be painted in a sloppy manner with purple nail polish. Vicious played his first gig with the Pistols on April 3, 1977 at The Screen On The Green in London. His debut was filmed by Don Letts and appears in "Punk Rock Movie".
Sid was in the band, but the only trouble was that he could not play very well and had no bass guitar experience, so guitarist Steve Jones had to step in on bass duties for the bands' debut album "Never Mind the Bollocks, Here's the Sex Pistols" barring two songs: "Anarchy In The UK" which had already been released and "Bodies" which Sid was allowed to play on even though it would be overdubbed later on by Jones. Another reason for his absence for the album is that Vicious was in hospital with hepatitis (most likely from his drug use) and during that period his main visitor would have been his girlfriend Nancy Spungen, an American groupie and heroin addict whom he had met in 1977. She was also a part-time prostitute and stripper, and she is said to have introduced Sid to heroin, even though Sid was already abusing multiple drugs that his mother Anne supplied him with before he had met Nancy.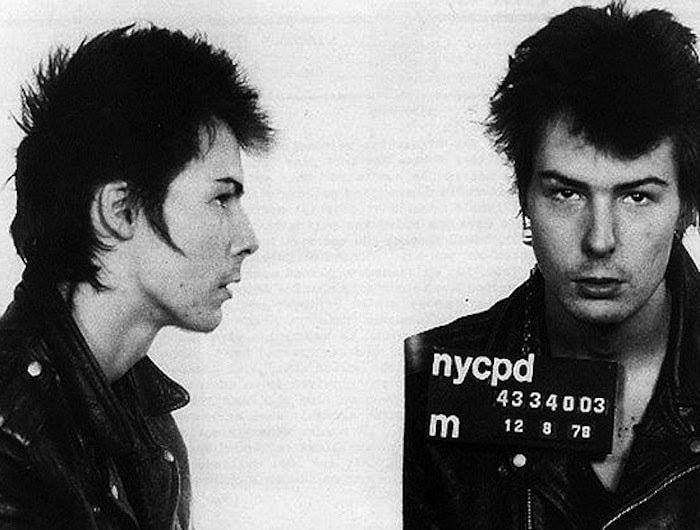 As 1977 came to a close, the Sex Pistols were arguably one of the most famous bands on the planet with vulgarity and obnoxiousness as well as Sid's hardcore punk personality as the absolute key to their ever growing stature.
On Christmas Day, 1977 the band played a matinee for the children of Huddersfield during the fireman's strike. John Lydon has said himself in the documentary "Never Mind the Baubles" that Sid needed to have a serious talking to beforehand because he wanted to be the "hardcore, tough rocker bloke" and that swearing and being tough is not the right way to get the message across to the kids. The recording of the Johnny Thunders song "Born to Lose", featuring Sid on vocals, is suspected to have come from this time period, during the matinee, when Johnny Rotten stepped off to pose as Father Christmas. These were the Sex Pistols' last performances in England.
In January, 1978 the group embarked on a US tour which would only last one to two weeks because of multiple show cancellations and deterioration within the group. These issues primarily involved Malcolm McLaren, Johnny Rotten and Sid, and occurred mainly because Rotten accused Malcolm of trying to "wreck the very thing that made the Sex Pistols great", and because of Sid's heavy heroin habit that was worsening, as well as his relationship with the audience members and what he would do with them. Vicious famously hit an audience member who meant him physical harm on the head with his bass; the audience member had also annoyed Sid, who would eventually shout out "faggot f**ker" before hitting him. Furthermore, no one could forget the time when Sid carved the words "Gimme a Fix" on his own bare chest. It was also during this period that the Sex Pistols performed the song "Belsen Was A Gas" live for the first time. The song was most likely Sid's only contribution to the band during his tenure as a member,even though he originally wrote it while in the Flowers of Romance. Vicious would sing this song during his brief solo career after the band split up.
After the show at Winterland in San Francisco, ("Live at Winterland 1978″"was released in 2001), the group fell apart, and Sid, along with Nancy in arms, was free to do as he pleased. In doing so, he embarked on a path to destruction, while recording lead vocals on three cover songs at the same time for the soundtrack album for the film "The Great Rock 'n' Roll Swindle". "My Way" was released in 1978, "C'mon Everybody" was released in 1979, and "Something Else" was released in 1979 after his death.
With Spungen acting as his "manager", Vicious embarked on a solo career during which he performed with musicians including Mick Jones of The Clash, Sex Pistols bassist Glen Matlock, Rat Scabies of The Damned and the New York Dolls' Arthur Kane, Jerry Nolan, and Johnny Thunders. Vicious performed the majority of his performances at Max's Kansas City and drew large crowds, though some performances were "hellish", especially when Sid insulted some of the audience. Examples of this can be heard in the in-between tracks on his live album "Sid Sings". Guitarist Steve Dior said in the documentary film "Who Killed Nancy?" that he "got good money for those shows". His gigs at Max's would turn out to be his last performances as a solo musician, as well as his last performances ever.
On the morning of October 12, 1978, Vicious claimed to have awoken from a drugged stupor to find Nancy Spungen dead on the bathroom floor of their room in the Hotel Chelsea in Manhattan, New York. She had suffered a single stab wound to her abdomen and appeared to have bled to death. The knife used had been bought by Vicious on 42nd Street and was identical to a "007" flip-knife given to punk rock vocalist Stiv Bators of the Dead Boys by Dee Dee Ramone. According to Dee Dee's wife at the time, Vera King Ramone, Vicious had bought the knife after seeing Stiv's. Vicious was arrested and charged with her murder. He said they had fought that night but gave conflicting versions of what happened next, saying, "I stabbed her, but I never meant to kill her", then saying that he did not remember and at one point during the argument Spungen had fallen onto the knife.
On October 22nd, ten days after Spungen's death, Vicious attempted suicide by slitting his wrist with a smashed light bulb and was subsequently hospitalized at Bellevue Hospital where he also tried killing himself by jumping from a window as well as shouting "I want to be with my Nancy" or other similar words, but was pulled back by hospital staff. In an interview he gave in November 1978, he said that Nancy's death was "meant to happen" and that "Nancy always said she'd die before she was 21." Near the end of the interview, he was asked if he was having fun. In reply, he asked the interviewer if he was kidding, adding that he would like to be "under the ground." It was also at Bellevue that he met his lawyer James Merberg, who did everything he could to keep Vicious out of jail.
He was charged with assault after attacking Todd Smith, singer Patti Smith's brother, at a Skafish concert at Hurrah; a New York dance club. Vicious was arrested on December 9, 1978 and sent to Rikers Island metro jail for fifty-five days to undergo a painful and enforced detoxification. He was released on bail on February 1, 1979.
Bail was originally set at $50,000, but lowered after court hearings and negotiations from his lawyer. Malcolm McLaren, the Sex Pistols' manager, worked to raise money and the bond was eventually covered by Virgin Records. John Lydon has stated that Mick Jagger stepped in and paid for the lawyers for Vicious, and has praised Jagger for never seeking any publicity for this.
At 3:00 am on February 2, 1979, Vicious and new girlfriend Michelle Robinson went to bed together. Vicious died in the night and was discovered dead by Anne and Michelle early the next morning. His sudden death only fueled his legacy as a punk rock icon. His twisted love affair with Spungen was the inspiration for the 1986 film "Sid and Nancy", starring actor Gary Oldman as Vicious.
SOURCES
http://www.sexpistolsofficial.com
http://www.sex-pistols.net/
http://www.biography.com/people/sid-vicious-246010
https://rockhall.com/inductees/sex-pistols/bio/
http://www.biography.com/people/sid-vicious-246010
http://en.wikipedia.org/wiki/Sid_Vicious
http://en.wikipedia.org/wiki/Sex_Pistols
https://www.facebook.com/sexpistolsofficial